WARNING!
---


The pages that follow have been determined to have a high content of violence, sexual content, and general mayhem. Please read carefully!
You are about to view an area that contains adult content. Before viewing these pages, you must read and agree to the following:




1.You are an adult (18 years or older) and have read and understand this Adult Content Agreement.
2.You understand that the content involve language, images and themes of an adult or controversial nature.
3.You understand that all content reflects only the views of the author and not that of the internet in general.
4.The author has no obligation to delete content that you may find objectionable or offensive.
5.IN NO EVENT WILL CARRIE BE LIABLE TO YOU FOR ANY DAMAGES OF ANY KIND, INCLUDING BUT NOT LIMITED TO COMPENSATORY DAMAGES, LOST PROFITS, LOST DATA OR ANY FORM OF SPECIAL, INCIDENTAL, INDIRECT, CONSEQUENTIAL OR PUNITIVE DAMAGES OF ANY KIND, WHETHER BASED ON BREACH OF CONTRACT OR WARRANTY, TORT (INCLUDING NEGLIGENCE), PRODUCT LIABILITY OR OTHERWISE, EVEN IF CARRIE IS INFORMED IN ADVANCE OF THE POSSIBILITY OF SUCH DAMAGES.
6.This Agreement will be governed by and construed in accordance with the laws of the State of California, without regard to your actual state or country of residence. Any waiver, amendment or other modification of any provision of this Agreement will be effective only if in writing and signed by Carrie. If for any reason a court of competent jurisdiction finds any provision or portion of this Agreement to be unenforceable, the remainder of this Agreement will continue in full force and effect. This Agreement constitutes the entire agreement between the parties with respect to the subject matter hereof, and supersedes and replaces all prior or contemporaneous understandings or agreements, written or oral, regarding such subject matter.
7. You understand and agree that the content of this site is fiction for entertainment purposes. That it is not an endorsement of the actual eating of human flesh, or of feeding humans, living or dead to predators, carnivorous plants or alien life forms. That we won't judge your kink if you won't judge ours. And that no actual comic characters were harmed during the creation of this content.
If this is agreeable to you then click on the word "WARNING" at the top of this page to continue.




You've been warned!

.

ENTER




LEAVE





This site is hosted by the good people of

World renownded makers of the finest gynophaglic erotica available!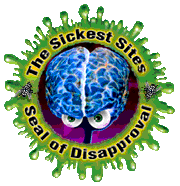 Hey! We won an Award!
(okay, it ain't much, but it's still an award).